Balmy Beach Canoe Club
Masters Home Page

Masters Mid-winter Training in Bancroft
Dave Miller




Early, one bright and sunny Sunday morning in the middle of February, Lit'l Jim Parson discovered his innate talent for the "natural luge".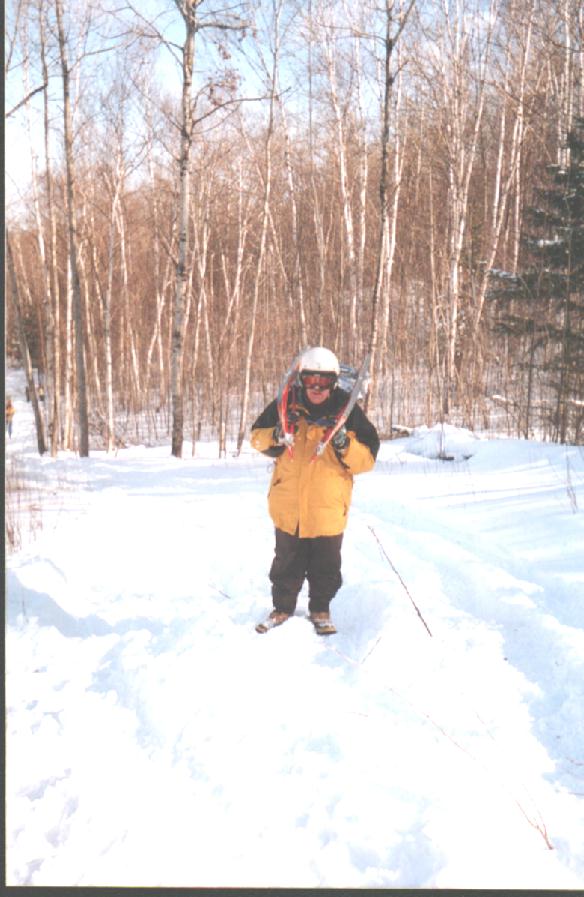 "Jim -- The Bomb" (as his fans affectionately called him) flew down the track. On every run he started higher and higher, taking all the corners on the track faster and faster. As others ate ice and snow during their descents, "The Bomb" soared effortlessly over its icy surface, setting "personal best times" with each and every pass.
"The Bomb" was one of 11 masters who traveled to Bancroft with 5 friends and 1 coach on Feb 15 for two days of intensive winter training. Coach Roworth put the paddlers/lugers through a rigorous weekend of cross training at Joseph's Resort. (Rob did you know Coach Roworth's rigorous cross-training includes: a grueling mix of over eating and staying up way too late talking …oh and some exercise.)
Many arrived in Bancroft on Friday and found themselves immediately drawn to the local sports bar to watch the Canadian men's Olympic hockey team play Sweden. (After the 5 to 2 loss, things could only get better.)
On Saturday morning Joe served a wonderful pancake breakfast. After breakfast the large group divided up, some went cross-country skiing, others snowshoeing and some went for a hike through the woods.
After the day's adventures we all met back at Joe's, where he served us a wonderful roast beef and Yorkshire pudding dinner. (I gladly helped finish off the roast beef.) After dinner we "retreated" to the resort's recreation room for a modified version of trivial pursuit and some darts. If my memory serves me correctly Lisa was the reigning dart champion of the week-end, taking a handsome $10 profit from some poor sucker. Later that evening Joe gave us some firewood. The roaring bon-fire kept us warm as we ate a very healthy dose of roasted marshmallows. (Shawn's "beer" coat kept him extra warm.)
The evening's freshly fallen snow proved too much of a temptation and a snowball fight soon erupted. Those of us who had to use the nearby outhouse were mercilessly attacked by a barrage of snowballs as we exited. By the way, the outhouse was not just your average everyday run of the mill outhouse. It was the fanciest outhouse ever. The seat was nicely padded, there was a heat lamp to keep you warm and you had all the snowmobiling magazines you could ever want to read.
Joe and his beautiful wife Tracey served breakfast on Sunday morning. They must have been up very early to prepare and cook the quiche. It was delicious! As we planned our day over breakfast, Shawn not only entertained the group but more importantly he entertained himself. He had himself bent…over in fits of laughter that morning. Maybe it was his twisted…sense of humour, or maybe not. By the end of breakfast we'd decide to give the "natural luge" a try. Little did we know then that a BBCC "natural luge" legend would be born.
[See more photos]
See you all next year. February 7, 8 and 9, 2003.
Check out Joseph's Resort at www.joesresort.com
---
HOME PAGE | BALMY BEACH CLUB | NEW MEMBERS |CANOE - HISTORY