Balmy Beach Canoe Club
New and Prospective Members
WELCOME TO THE CLUB
If you are already a member or just thinking of joining - this is place to gather all information about the Balmy Beach Canoe Club.
Frequently Asked Questions
Fund-raising
Membership Form
The Canoe Club starts paddlers as young as 10 years of age with classes of Competition Categories ranging from Atom to Masters. Beach has a rich tradition of successful competition and over the years, several members of Canada's Olympic Canoeing Team originally came from Balmy Beach. There is also a Masters class comprised of male & females 25 + who compete for National honours at the Canadian Masters Championships. The Canadian Masters Championships did not come into being until 1986, a year after the first World Masters Games that were held in Toronto in 1985. Since then Beach paddlers have participated in the World Masters Games held in 1989 at Copenhagen, Denmark, 1994 at Brisbane, Australia and again in 1998 at Portland, Oregon. Beach has won the overall National title in 1988 and 1989.




BALMY BEACH CANOE CLUB
MISSION STATEMENT
Balmy Beach Canoe Club is a non-profit organization deciated to promoting the sport of spint canoeing and kayaking in the Beach community. The Club's goal is to provide a safe and enjoyable, recreational and/or competitive environment, for members of all ages and abilities. Programs are designed to develop both the physical and mental strenth of individual members while encouraging team and Club spirit
---
---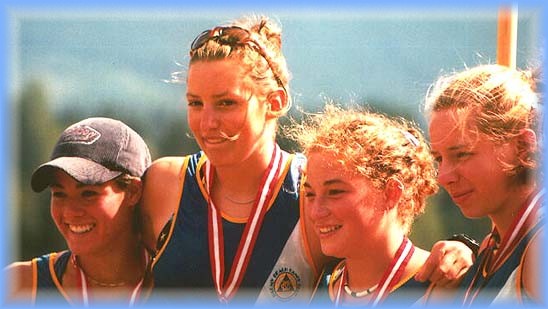 ---
HOME PAGE | BALMY BEACH CLUB | BBCC DIRECTORY | CANOE - HISTORY